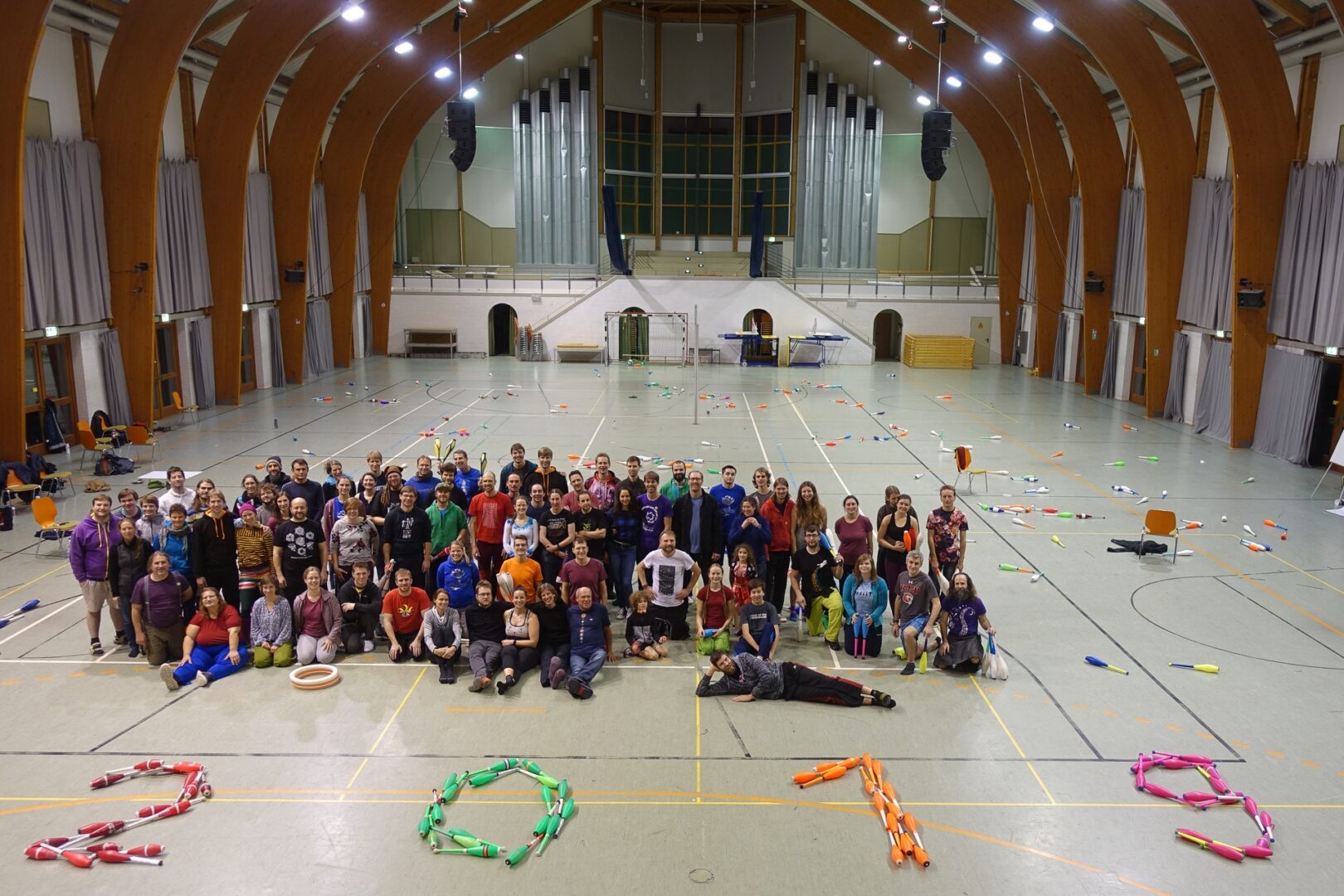 Pas­sOut Krelin­gen After­movie by Hoschy
Thank you for an awesome PassOut!
This year, Pas­sOut took place in Krelin­gen, a small town in north­ern Ger­many. The next train sta­tion was 12 km away with a very sketchy bus sched­ule, so we shuttled people to and fro in private cars. Thanks to the drivers who were mainly Chris­ti­an K., Uwe, Juli, Nicki and Menno every­one got to Pas­sOut and every­one caught their train at the end.
Thanks also to all the oth­er jug­glers who came and who helped. The ser­vice Ladies of GRZ were so much in love with you! Take it from them: you are a very spe­cial and very awe­some crowd!
82 jug­glers from 12 coun­tries atten­ded. With 32 attendees, Ger­mans were the strongest group fol­lowed by 17 jug­glers from the UK, 8 from the Neder­lands and 6 from the USA.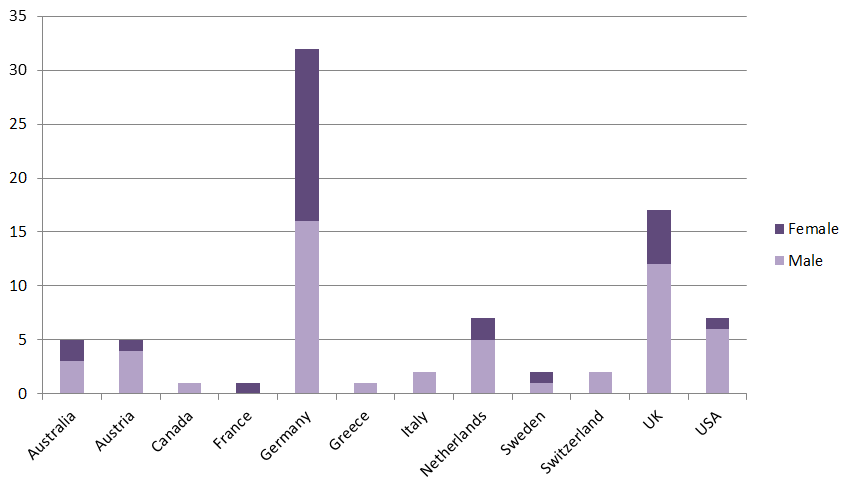 There were 29 female and 53 male jug­glers, Ger­mans and Swedes being the only groups with a bal­anced gender dis­tri­bu­tion. So, who­ever wants to com­plain about too many Ger­mans at Pas­sOut…
Thanks to all the wokshop teachers. Without you, PassOut wouldn´t be half as awesome!
Thanks also to Toto, who coordin­ated the work­shops at din­ner – even those with French words in them!
Chris­ti­an K.
Nicki
Ed
"How to go from 6 to 7 clubs passing" with Vin­cent
Doreen & Tur­tur
"Easy 4 per­son mov­ing passing pat­terns" with Greg, John Z., Nick & Staffan
Lisa, Evl and Eli­as
"Drunk­en Sail­ors" (There was no poster!)
Tiddo
"10 at 10" (10 clubs speed-passing)
Wolfgang
"Neck relax­a­tion tech­niques"
Katie
"Stretch­ing that may feel like yoga but isn´t"
Stef­fi
Wieb­ke
New patterns of the year: Takeouts in Bruno´s

With takeouts in Bruno´s, there is a new fam­ily of manip­u­lat­or-pat­terns out. It star­ted at the 2018 Ber­lin Jug­gling con­ven­tion with Nicki, Anett, Andreas and Uwe intro­du­cing takeouts into 3‑count Bruno´s. "Bru­nicki" was born there. It went on at Pas­sOut with Wolfgang first try­ing to adapt a com­bin­a­tion of 2 scrambleds into 2‑count Bruno´s. It was quite hard, espe­cially as the manip­u­la­tion as well as the walk­ing is dif­fer­ent accord­ing to which side of the pat­tern you are on. At some point, Juli said "I feel like cream that someone wants to beat and to heat up at the same time". We didn´t get a full round but we named the pat­tern "Ther­mo­mix".
Nicki was more keen on intro­du­cing takeouts into 3‑count Bruno´s, to get semi-ambi­dex­trous pat­terns like Bru­nicki. Bru­nicki looks sym­met­ric but for the indi­vidu­al jug­gler it actu­ally isn´t. 2 jug­glers always manip­u­late on the right, 2 on the left-hand side.
Finally, Brun­olf res­ul­ted from the com­bined efforts of Wolfgang and Nicki. As Brun­olf was designed to spe­cific­ally manip­u­late only clubs that are left alone by Bru­nicki, those 2 can be com­bined to make a 5 people pat­tern with 2 manip­u­lat­ors, named Bru­nick­olf.
The Bruno´s takeouts are a little harder than scrambleds. They require passes and manip­u­la­tion from both hands.
Passing software & online resources

Swis­s­ti­an made up a new soft­ware for passing. In the pro­cess, he dis­covered many little known resources online.
You´ll find the links on the start page.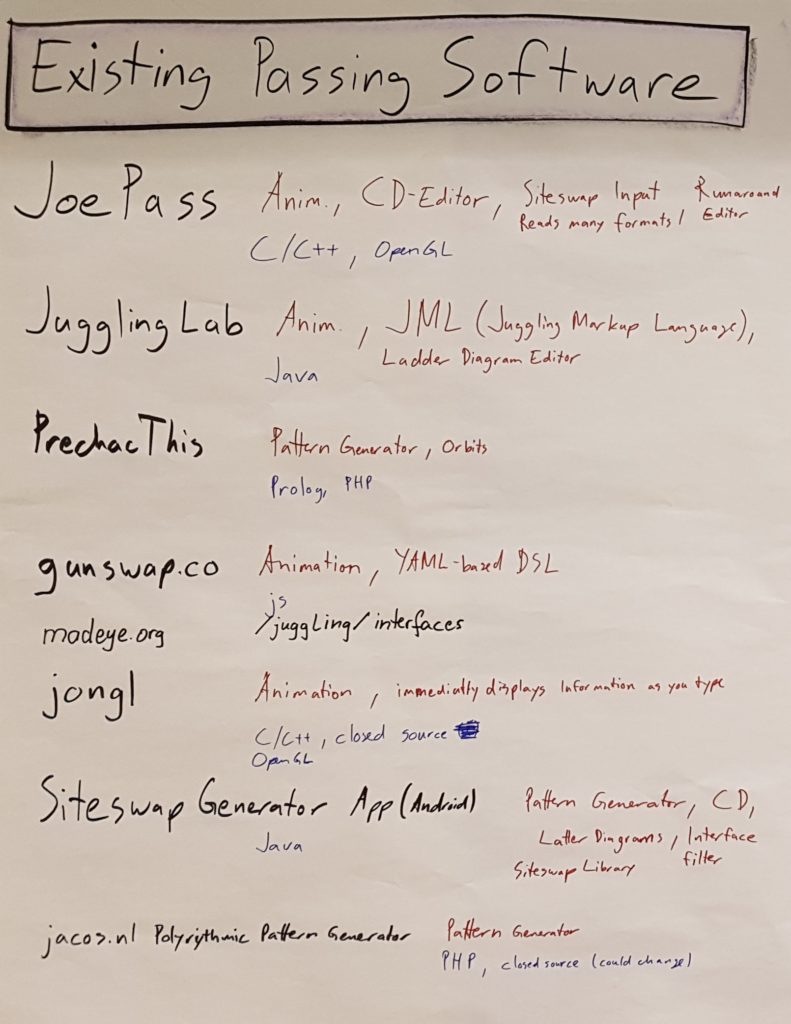 Katie was in charge of the Party dec­or­a­tions – and our din­ing room looked awe­some. There were chinese well-wishes from Wiebke´s work­shop, lots of ori­gami orna­ments, self-made gar­lands and a mil­lion lights. Thank you, Katie and Katie´s crew: Uwe, Ruth, Toto and…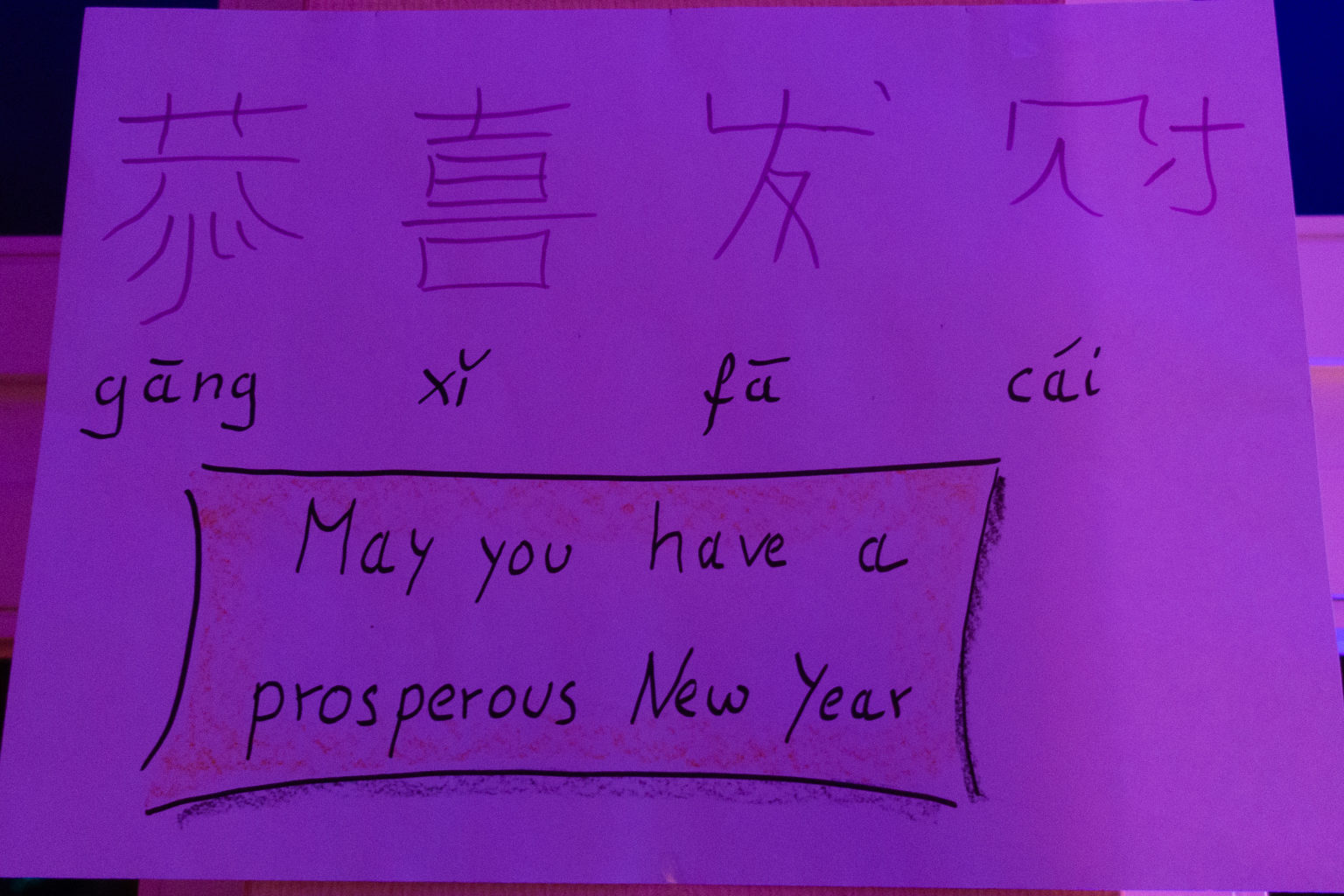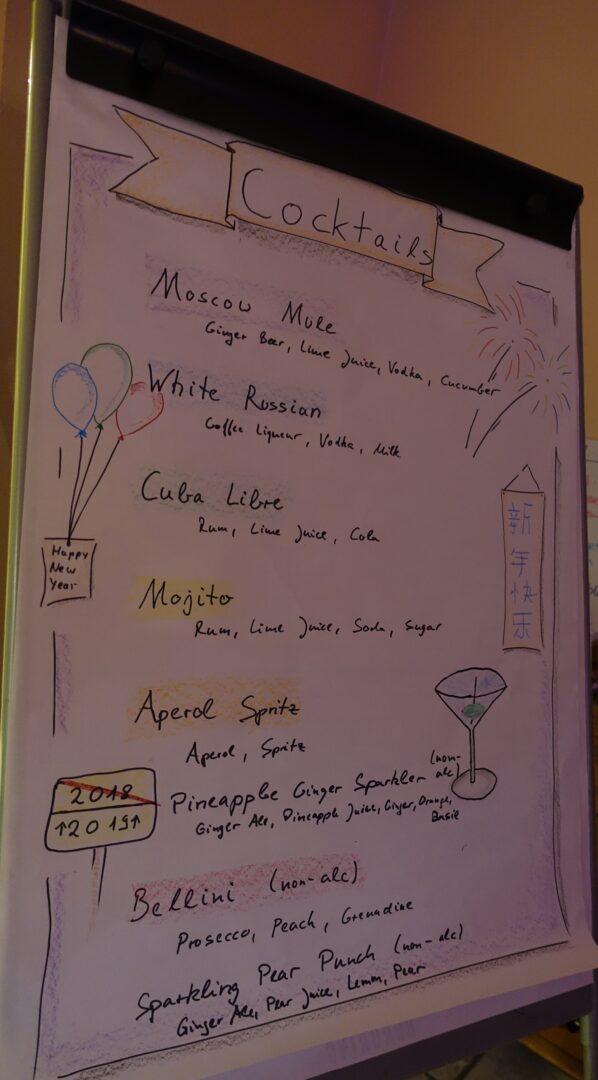 This year, it was not only the Itali­ans Alberto and Giord­ano respons­ible for the drinks – they got help from Simon and Hoschy. The drinks menu was cer­tainly impress­ive.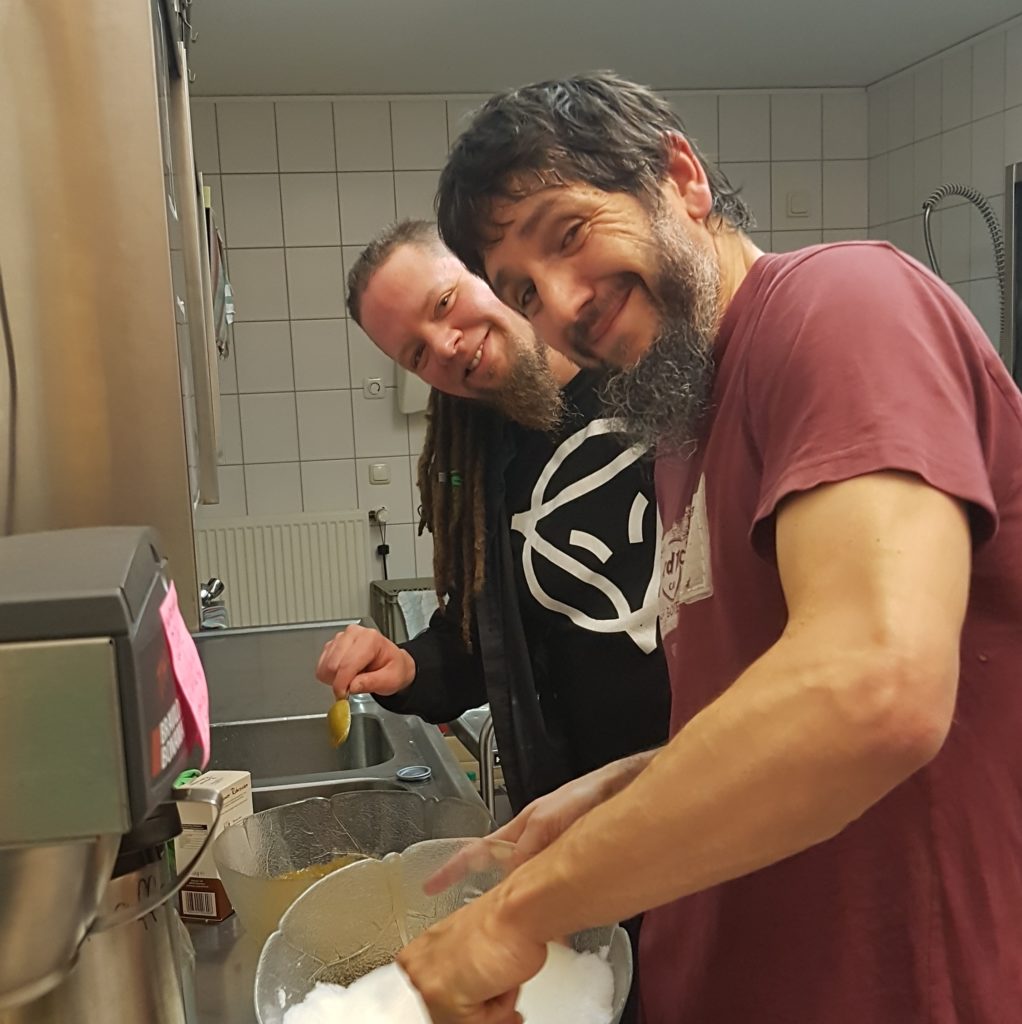 As there was no pool, there was no water bal­let. But – there was "hobby­hors­ing" where people old enough to be con­sidered adults act like they are horse and rider in a dressage show. Silly!