At this year's EJC in Newark, there was a work­shop on Fol­low-About, which is a Round­about with one extra manip­u­lat­or, who is fol­low­ing the first one on the same side. This pat­tern was new. Nor­mally, the second manip­u­lat­or would start at the same time, but in the oppos­ite dir­ec­tion than the first one.
So there was a nice new idea.
But the pat­tern was in 4‑count.
For those who prefer both handed (ambi­dex­trous) pat­terns, Mar­ie from Lille and Nicki from Göt­tin­gen developed the
3‑count Follow-About
There is one (in my opin­ion, not so pretty, because "one-sided") first ver­sion of the pat­tern, which I do not want to go into here.
Here are a few basic inform­a­tion about the final pat­tern:
3‑count Fol­low-About is based on (Nicki's) 3‑count Round­about. In order to learn the new pat­tern, it is not neces­sary to have ever thrown this Round­about ver­sion.
The only fly­ing pass in this pat­tern is magic – and pain­ful if you don't see it com­ing! On one side of the pat­tern (3‑count-rhythm) the same club always flies as a pass. This pass should be thrown espe­cially flowty. And the two selfs before the pass should also be thrown very slowly and high in order to give more time to the slightly stressed (ex-)manipulator who wants to catch the pass.
The manip­u­la­tion from pos­i­tion A to B is dif­fer­ent to the one from B to A. And in one dir­ec­tion, the manip­u­la­tion takes longer than in the oth­er. You can walk quite slowly from B to A while throw­ing two pelfs to the left. But when walk­ing from A to B, you have to do some more things as a manip­u­lat­or and stay much longer in the pat­tern.
The pre­vi­ous point has the funny effect of get­ting the magic­al pass club as a right-handed pass from someone else than as a left-handed pass.
You can find a more detailed descrip­tion in Ger­man on Anett's Blog.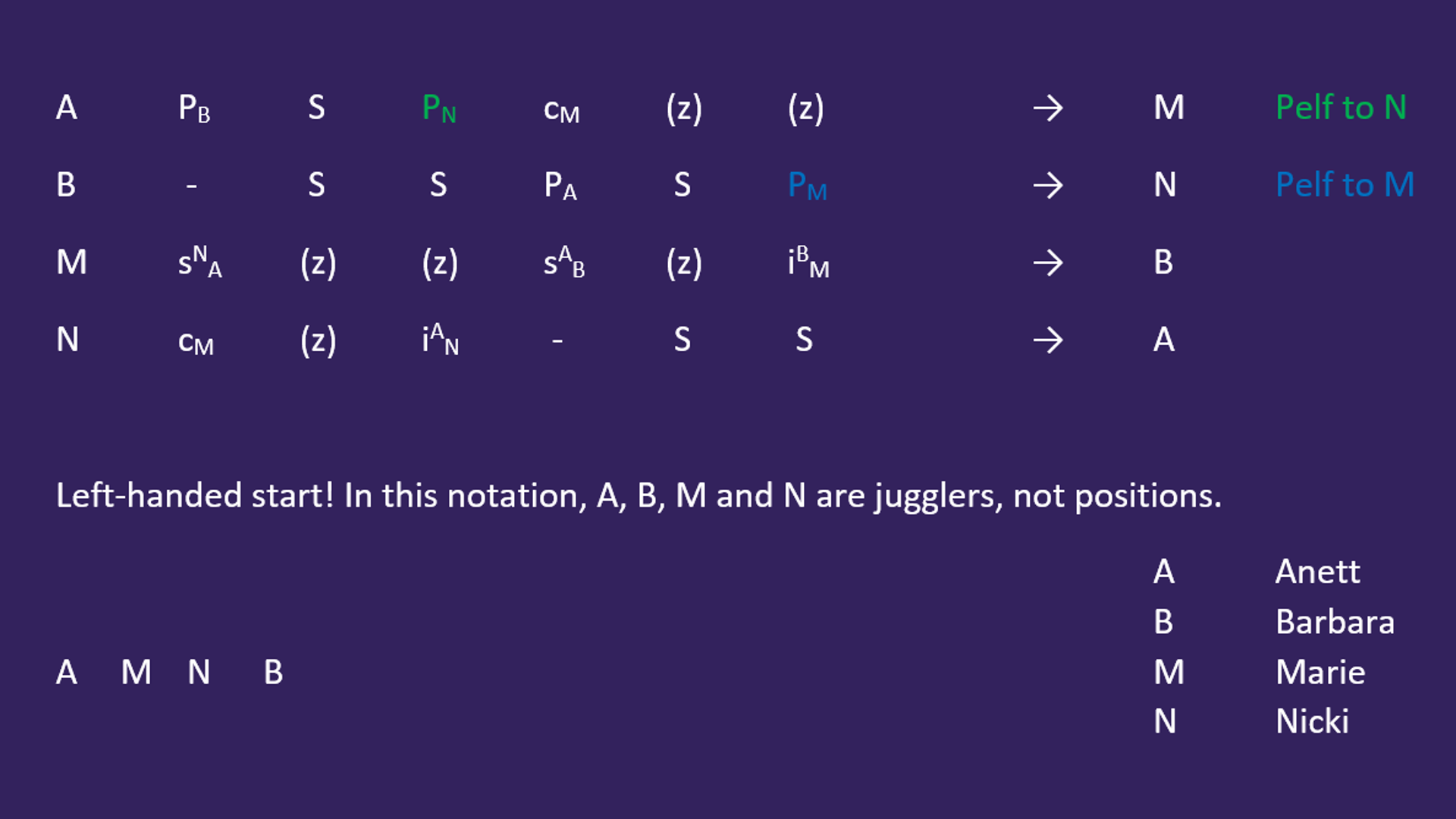 More great passing patterns: